The next big update from window's 10 after the anniversary update is the Creator's update. The Windows 10 Creators Update, which starts rolling out on April 11th, is more than a mere operating system upgrade. Microsoft wants to make it clear that Windows is not only a platform for productivity apps but also an OS where you can produce all sorts of creative things.
Paint 3D:
Paint 3D, an evolution of the classic Paint app in three dimensions, is the highlight of the Creators Update. Just like the original version (which is still available in Windows 10), it's basically a blank canvas for doodling. But it's also much more full-featured, since creating 3D objects isn't as simple as 2D drawings.
The app's interface is pure minimalism. Along the top, you can choose among brush tools, 3D objects, 2D stickers, text, canvas effects and Remix 3D. The latter option is particularly interesting, as it's being positioned as a community for uploading and sharing 3D creations. On the right side of the screen, you have different options for all of those tools. If you've used Paint before, you'll be familiar with some of them: The brushes include markers, pencils and crayons. This time around, though, you can also give them matte and metal sheens.
Things get more interesting with the newer tools. The 3D models include a man, woman, dog and cat by default, but you can also add more from Remix 3D. There are also geometric 3D objects, and you can turn doodles into sharp and soft-edged 3D objects. While the initial assortment of objects seems a bit generic, I have a feeling kids will enjoy drawing their own as well as collecting new figures from Remix 3D. As for the stickers, those serve as both 2D objects for your canvas as well as textures for 3D objects. Perhaps the most useful new addition: There's now a history bar for reversing bad decisions, and it can also generate a video of your creation process.
It's a free part of Windows 10 that's simple enough for kids to use. Even manipulating the 3D objects blew my mind a bit. You can rotate any model using the buttons displayed around them, and you can even change their position in relation to other objects on the 3D canvas without much fuss. Paint 3D offers plenty of helpful hints for using these features, but they're also laid out easily enough for anyone to figure out with a bit of experimenting. That's simply good software design.
While Paint 3D is intriguing on its own, it's particularly inspired when taken together with the Remix 3D social network. If you've used a Windows machine before, there's a good chance you've sketched out something in Paint, only to have it sit in obscurity on your hard drive. By having a way to quickly share creations as well as bring in art from others, Microsoft is also hoping to spark a bit more creativity among Paint 3D users. It's easy enough to search for new items from Remix 3D within Paint 3D, but there's also a Pinterest-like website for you to browse community submissions (you can even manipulate items in 3D within Edge).
One big takeaway from the Creators Update: Microsoft is mastering the art of synergy more than ever before. For example, you can take your creations from Minecraft and dump them into Paint 3D. And eventually, you'll be able to 3D print them from the app as well. That may not be useful in most homes, where 3D printing never quite took off, but it could be huge for schools that jumped on that bandwagon.
App Updates:
Rounding out the Creators Update are the inevitable app updates. In some ways it continues to be strange that Microsoft ties app updates to major Windows updates, as apps are independently updatable through the Windows Store. There's more inking—you can now draw on pictures and videos in the Photos app. There's new pen support in Maps, too; you can draw lines and paths on maps, and it'll show you how far the route you've traced out is.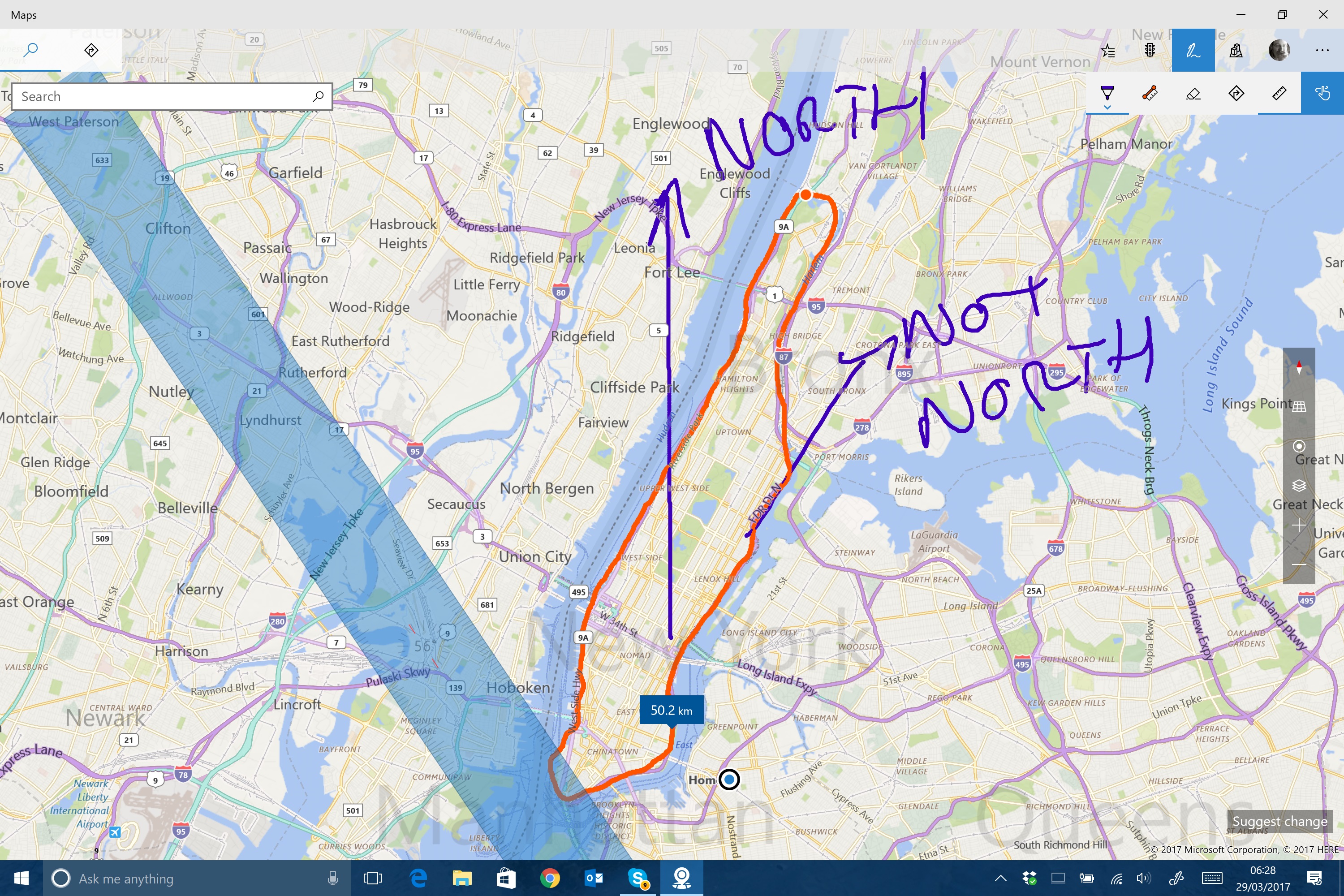 Gaming Updates:
Windows 10′ has brought a lot of features for the gamer in the Creators Update. Microsoft is pushing the feature heavily now (you can activate it by hitting the Windows key + G), in part because it's the way you activate Windows 10's built-in game-broadcasting feature.  The company is targeting less-experienced streamers, who might not have the patience to deal with Twitch streaming. The company tells us Beam's tech also sports sub-second latency, which allows for near real-time feedback between what you do and what your audience sees.
The Creators Update also introduces a new Game Mode into Windows 10. Simply put, it prioritizes your system resources whenever you're playing a supported game. If, for example, you have Photoshop running in the background while you're playing Doom 3, your PC will focus more CPU and GPU horsepower on the game. Microsoft reps say that by doing so, Game Mode will ensure higher peak performance as well as more-consistent frame rates.
Intriguingly enough, Microsoft also hinted that Game Mode could eventually apply to other apps. Artists would likely want to allocate as much horsepower to Adobe Photoshop and Premiere while they're working, for example. While the company's spokespeople wouldn't say anything for certain, it sounds like Microsoft has something along those lines in the works. Or perhaps it could simply rename Game Mode as Turbo Mode or something more generic.
Cortana Everywhere : 
The other part of Windows 10 that's seen a lot of change in the Creators Update is a part that you may well never even see: the installation/out of box experience. Microsoft has added Cortana support to the installer, and many (though not yet all) parts of the initial setup are controllable by voice.
Much more Features:
The new setup experience also includes revamped privacy settings. While the defaults still tend to favor sharing information and enabling cloud services, the new process is much clearer about what privacy controls are being set, presenting them all on screen rather than simply having an "express" button that picks all the defaults without ever showing what gets defaulted.
There are a couple of interesting new settings, too. Dynamic Lock is supposed to lock your PC whenever a paired Bluetooth device is too far away to be detected. Night Light offers the increasingly popular ability to use warmer (yellow) colors when the sun is down, and cooler (bluer) colors during the day. This color shifting is believed by some to aid sleeping by reducing exposure to "blue light" from screens.
The end:
If you were expecting a momentous shift in the way Windows 10 looks and works, the Creators Update will probably disappoint you. What's more important, though, is how Microsoft is fundamentally shifting its focus toward creativity. Paint 3D could end up showing someone that she has the ability to design things in entirely new ways. And the built-in game-streaming feature could end up creating some new online stars. I'll take that over a minor facelift any day.